Here we give you the numbers on refugee and migrant flows into Europe
In 2015 and 2016 the EU experienced an unprecedented influx of refugees and migrants. More than 1 million people arrived in the European Union, most of them fleeing from war and terror in Syria and other countries. The EU agreed on a range of measures to deal with the crisis. These included trying to resolve the root causes of the crisis as well as greatly increasing aid to people in need of humanitarian assistance both inside and outside the EU.
How many are coming?
As mentioned above more than a million people have sought refuge in Europe since 2015. The graphic below illustrates theevolution number of official asylum applications in EU territory since 2006 and up to 2017. It is important to notice that the influx of refugees peaked in 2015-2016 and has since dipped considerably.
Table.1 Asylum applications to the European Union
(non-EU) in the EU-28 Member States, 2006–2017 (thousands)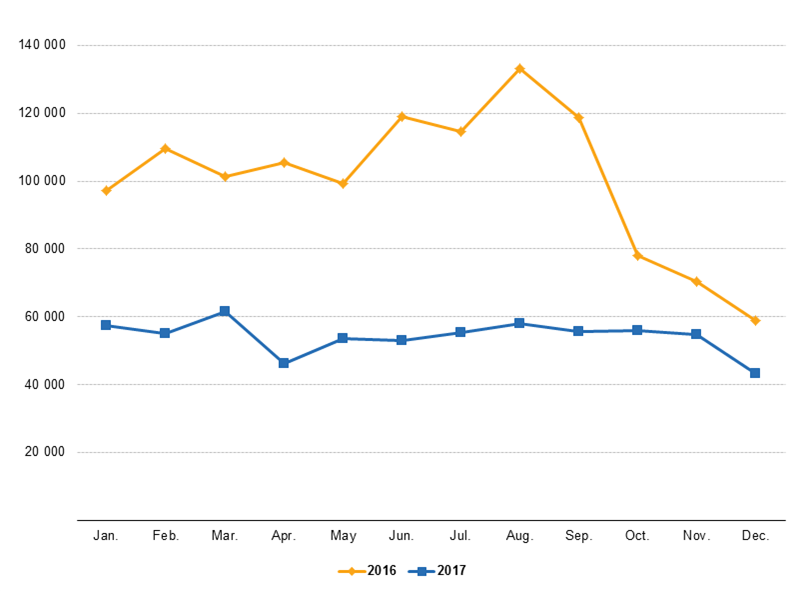 Where do refugees come from?
The majority of refugees come from primarily 3 countries, Syria, Iraq and Afghanistan, countries that have in the course of the last years all experienced significant armed conflicts.
Table 2. Countries of citizenship of (non-EU) asylum seekers in the EU-28 Member States, 2016 and 2017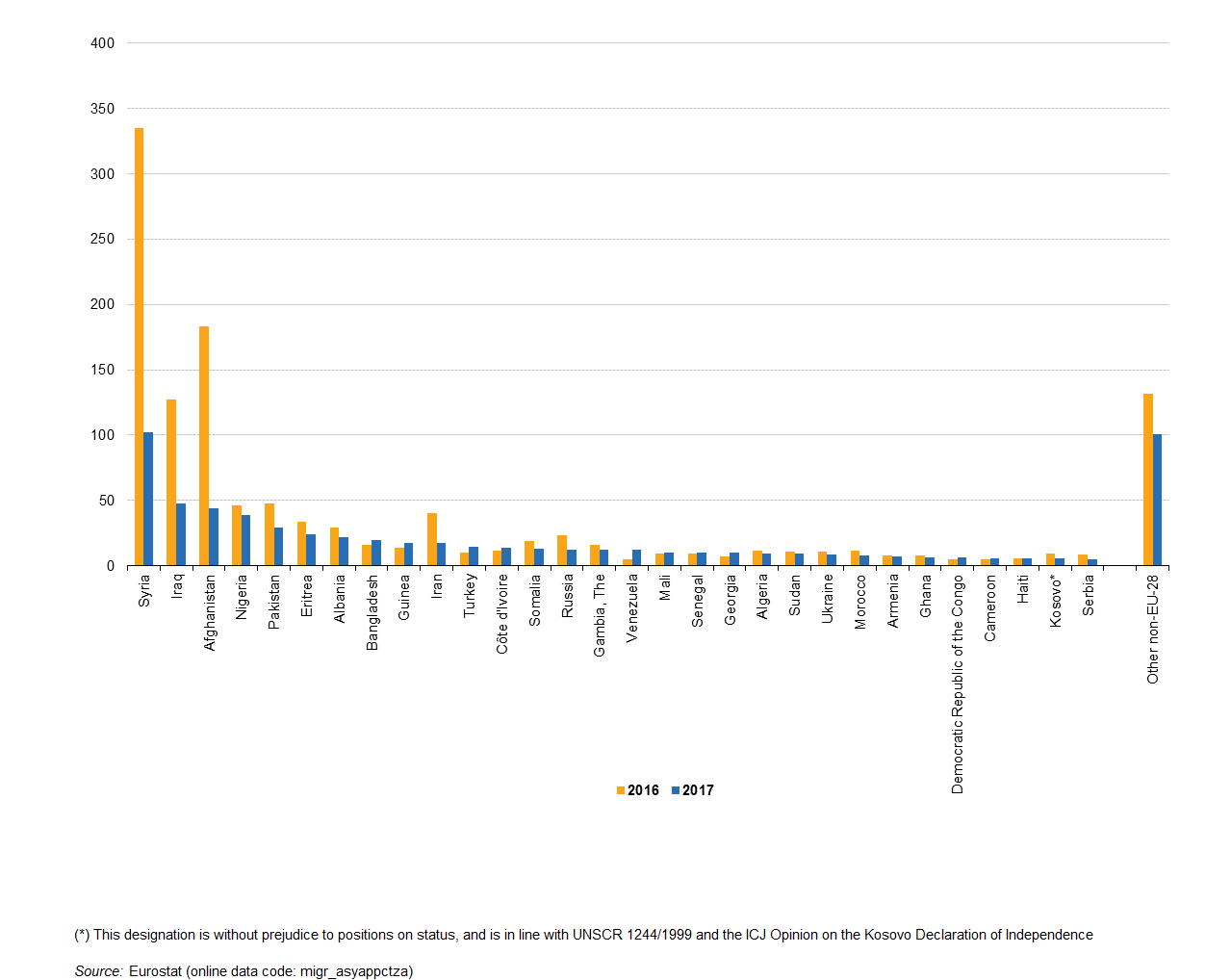 Where are they going to?
With 198 thousand applicants registered in 2017, Germany accounted for 31 % of all first-time applicants in the EU-28. It was followed by Italy (127 thousand, or 20 %), France (91 thousand, or 14 %), Greece (57 thousand, or 9 %), the United Kingdom (33 thousand, or 5 %) and Spain (30 thousand, or 5%) (source Eurostat). The table below presents an interesting break down by country ofthe nationality and number of asylum seekers per country.
For the latest statistics on asylum and refugee figures please consult the following embedded map

To be able to follow the latest information on the routes utilized by migrants, please consult the International Migrations Organisation Displacement Tracking Matrix

http://migration.iom.int/europe/
Other Links:
http://ec.europa.eu/eurostat/web/asylum-and-managed-migration/publications
http://ec.europa.eu/eurostat/web/migrant-integration/publications
http://ec.europa.eu/eurostat/web/asylum-and-managed-migration/overview
https://ec.europa.eu/home-affairs/what-we-do/policies/asylum_en
http://www.europarl.europa.eu/news/en/headlines/society/20170629STO78630/eu-migrant-crisis-facts-and-figures
http://www.unhcr.org/europe-emergency.html
http://www.unhcr.org/protection/operations/5592bd059/sea-route-europe-mediterranean-passage-age-refugees.html
https://reliefweb.int/report/greece/unicef-refugee-and-migrant-crisis-europe-regional-humanitarian-situation-report-25
https://www.unicef.ie/2017/02/28/deadly-journey-children-migration-route-north-africa-europe/
http://www.bbc.com/news/world-europe-34131911
http://publications.europa.eu/webpub/com/factsheets/migration-crisis/en/
Dublin Core: Language: Language will appear here Subject: Enter comma separated keywords here