My name is Mustafa and I'm 32 years old. I started my journey from Syria to Turkey and then to Chios. My family stayed in Turkey because we did not have enough money to travel all together. I had two kids but unfortunately, the one died 15 days after his birth. Yesterday, the 26th of February my wife gave birth to a boy.
I had many problems in the refugee camp in Chios, it was not clean at all, there were many garbages. I have a wife and two kids. I had to wait there for seven months just to get my documents, but I needed to work because I had to send money to my family back in Turkey.
I came to Athens from Chios. I went to Katechaki (where asylum agency is located) and they told me to go back to Chios as I did not have money. Now, I have been in Skaramagas camp for seven months. I asked a greek friend to help me with the documents but I need 600 euros to get them.
Back in Syria, I was working as a decorator, if I had my documents I could work a lot here. I also like cooking. Now, I work in a shop in Skaramagas camp, I make falafel and hummus. I want to stay in Greece and live with my family here. After getting my documents, I have to make enough money so I can bring my family here with me. It has been five months now that I am not going out of the camp.
Storyteller's name: Mustafa
Interviewer's name: Anxhela Dani
Country of origin: Syria
Sex: M
Age: 32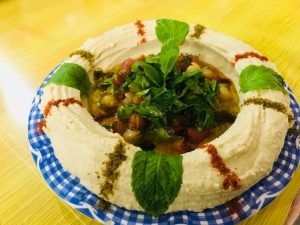 Dublin Core: Language: en Subject: Greece, Syria, refugee, Asylum, A Million Stories, Latakia